Mac Tech 12 Mini Dino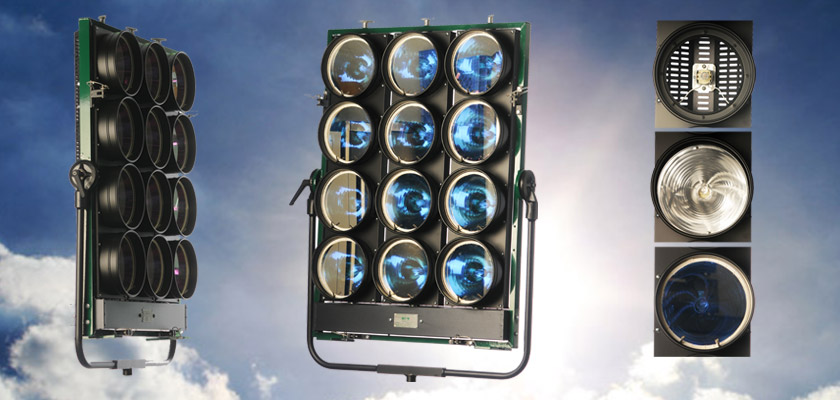 The Future of Light is Now! The Mac Tech 12 Mini Dino is our most popular rental item and is requested by gaffers, rigging gaffers and DP's every day. The best GREEN lighting for movies and television is always our goal! The light with bulbs and lenses weighs only 60 lbs! Meaning you can safely load four of these with a 200 pound electrician in a condor. Now you have a 48 light dino system that draws only 288 amps and with our new full CTB Daylight Lenses; you can shoot anytime, anywhere!
Mac Tech 12 Mini Dino Overview

The Mac Tech 12 Mini Dino has been upgraded, for 2010, to use the SPH Series bulbs. We found the 575 watt bulb to be TWICE as bright as our previous bulb and only 10% less than the 750 watt bulb! We outperform existing par lights by using 575 watt or 750 watt bulbs along with our high output parabolic reflector and 8″ interchangeable lenses. This means quality and flexible lighting, reduced power and heat, and no more boxes of old expensive style par 64 bulbs. Now you are truly free to move about the country and shoot. The parabolic reflector creates a much smoother field of light with any of our six lenses. The axial mounted bulb in conjunction with the parabolic reflector eliminates inconsistent hot spots and shadows associated with standard par 64 bulbs. You have more output to work with because you don't need to use diffusion. Remember the key is to amplify, only diffuse when absolutely necessary!
The Top Choice for Film & Television!
The Mac Tech 12 Mini Dino has been used on a vast number of blockbuster films (see our credits section for a partial list). Top Directors of Photography, gaffers and rigging gaffers are raving about the quality of light the Mac Tech fixtures produce. These are by far the best green production lighting solutions on the market today!
Go Green with 25%-45% Less Energy Consumption and Heat Generation
Yes that's right, 25% to 45% less power. The magic is in our parabolic reflector. When using our 750 watt bulb we kick butt on a par 64 sealed beam. And when using our 575 watt bulb we blow away a 1000 watt par 64 bulb. Let's see; less power, less heat and more output…. That's a no brainer!
Technical Specifications
Power Supply: 110 – 240 volts
Current Consumption: 75 amps with 750 watt bulbs, 57 amps with 575 watt bulbs
Dimensions: 38" (W) x 8" (D) x 52" (H)
Weight: 59.29 lbs. / 26.894 kg
Included Items: Dual Soccopex connectors
Order Today
Light Only! $5335.00
The Mac Tech 12 Mini Dino comes with the following accessories: Dual Soccopex connectors. Available with 60amp bates connectors on request.
Full Package! List
$7364.00

$6600.00

This Mac Tech 12 Mini Dino Package comes with the following:

1 Head: List Price $5335.00

12 SPH 120V 750W Bulbs: List Price $246.00

12 NSP Narrow Lenses: List Price $246.00

12 VWFL Stipple Lenses: List Price $246.00

2 Tweleve Place Lens Bag: List Price $366.00

1 Set Extension Arms (4 Pr): List Price $633.00

1 6X6 Aluminum Frame: List Price $292.00
Dual Soccopex connectors. Available with 60amp bates connectors on request.
Mac Tech 12 Accessories (see all)